I can see why to many this film might be "problematic" to the LGBTQ community. Many wanted it to be a representation of Bisexuality or at least Bi-Curious culture. However, being a "bi woman" myself I didn't find it offensive for the most part. I actually enjoyed it more than I thought I would! The plot goes as follows. Alex Truelove has been best friends with Claire for a long time. After kissing one night they begin dating. Although, after 8 months they still haven't had sex. Determined to lose his virginity, Alex plans a special night in a hotel with Claire. Alex then meets Elliot at a party, an openly gay teenager whom Alex bonds with immediately. Eventually, Alex begins to question his feelings towards Elliot and his own sexuality.
So seeing as this Netflix movie and "Love Simon" came out the same year, it's clear that comparisons will be made. I would say I enjoyed this movie about as much as "Love Simon", I had issues with both but in different ways. Many of the things I really enjoyed about this film centered around the writers not tip-toeing around sex! "Love Simon" felt like a more romanticized version of high-school, whereas this felt more real. I liked the idea of comparing animals mating within the wild to high-school students, not an overly new concept (Mean Girls) but it worked within this film. They also didn't shy away from the concept of experimentation and sexuality correlating.
All that being said so far, there was also homophobia riddled throughout this film that was very distracting to me. Is it realistic? Well yeah, but it's coming from Alex's "friends" and doesn't end with any consequences. One friend even basically sexually harasses Alex by flashing him and it's never brought up again! It's not okay to include that within a movie and not follow-through on what actually would happen in those type of situations. Then all of those "friends" just are okay by the end of the film? It didn't really add up.
Back to positives though. The film has some good humor, for example the entire drug-tripping scene was fantastic! Also the actors portraying Alex and Elliot actually had really cute chemistry. I could believe they would become attracted to each other and ultimately date. I also thought Alex and Claire had great chemistry, though obviously in a different way. I believed more in this romance story than in "Love Simon", though both were "heart-warming".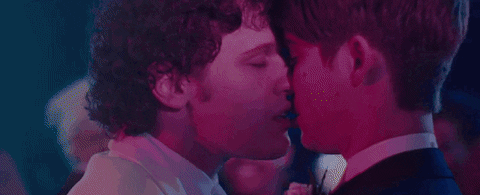 Overall, another decent LGBTQ film. If you're a fan of these kind of films, then go watch it! If not, well you won't be missing masterpiece necessarily but its a fun watch. The message drives home enough at the end where it didn't feel completely overlooked. I would actually be interested in a sequel to this, whereas "Love Simon" does not have that same feeling. Yeah Alex and Elliot have their Cinderella dance moment at the end, but what about creating an actual relationship? Give us the real, full-picture tea! Though I'm doubting that may happen because I have heard little to no buzz about it. Fans can only hope.
Current Rating: 3/5 Lawn Gnomes