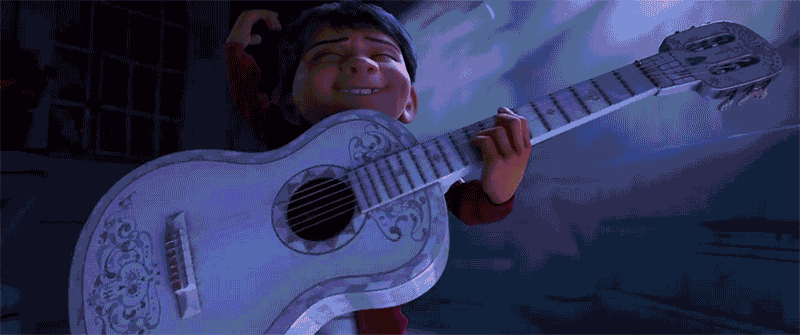 Seeing as this movie was an Oscar winning animated feature and I'd been intrigued by the trailer I had to see it. "Coco" is centered around Miguel and his entire family whom are shoemakers and haters of music. Miguel's great great grandmother Imelda was the wife of a musician, who left her and their 3-year-old daughter Coco, to pursue a career in music. When he never returned, Imelda banned music hence why the entire family shares this hatred. Miguel however has a great passion for music and struggles with families wishes.
If I had one word to describe this movie it would definitely be "atmospheric". Since this movie heavily is based around the Mexican holiday of the "Day of the Dead", it shows the beauty of this holiday with all the bright colors, flower petals, etc. The music was also a high point for me in this movie, it fully immerses you in the culture which I love. Even the spirit-guide animal aspect of the movie I really liked! It's all about family! Our featured song "Remember Me" is sung in both a high-spirited, uplifting way and a slower tempoed thoughtful way. This was a nice added touch to make music a bit more layered than other Disney Pixar films have in the past.
I would say the lower points for me about this movie were centered around the story. I kept getting strong "Footloose" vibes from the banning of music, which isn't a bad thing but it's also been done before. Any part that took place in the world of the dead I much preferred to the parts of the movie within the living world. It's never good to me when I can guess key plot points within the first 30 minutes of the movie and I did just that so there was no "mystery" to me. The entire plot-point of Ernesto de la Cruz just seemed too obvious to me, if you've seen the movie you probably know what I mean.
Though I haven't personally seen the other animated films that were nominated at the 2018 Oscars I do think now I need to watch them and compare. "Coco" was very enjoyable, but it is also Disney so I didn't expect anything less. If anything it's a beautifully animated movie to look at and Pixar's animation studio just keeps getting better and better. I don't think it's Pixar's best film to date, but it's definitely up there as a contender!
Current Rating: 3.5/5 Dancing Skeletons